About "Saw it Coming"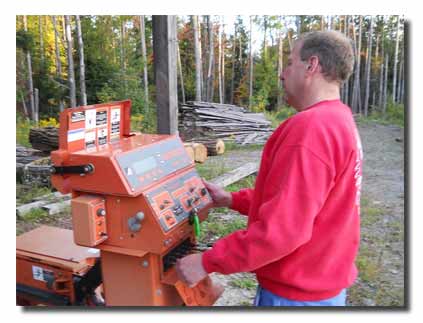 My name is Mike Grover and I love to saw logs into useful lumber!
I have owned and operated a saw mill for the last 10 years and have sawn for myself, friends and many customers and I am a member of the Wood-Mizer Pro Sawyer's Network. I have experience sawing dimensional lumber from soft woods, grade lumber from hardwoods and specialty lumber for many projects.
My wife and I have built a covered porch, a garage, a sawmill shed and a get-away cabin in the woods – all out of lumber that I have sawn on my mill mostly cut from trees from our land.
Growing up in the country and spending my free time in the woods all my life has given me a deep appreciation of the woods and the trees in them. I strongly feel that any time a tree has to be taken down, be it because of storm, lot clearing or selective harvesting we should strive to get the most valuable and useful product out of that tree possible. Firewood is O.K. but lumber built into a family heirloom is a much better use of that tree!
For the last 35 years I have worked in the automotive repair industry, the last 20 plus years have owned my own repair shop where I managed day to day operations, employees and repairs. I have numerous certifications, achieving and maintaining for 25 years ASE Master L1 certification among the most important.
Saw It Coming gives me the opportunity to be outside and help others reach their land management goals.
I would be happy to discuss any of my services with those interested just use the on-line contact form or give me a call.